How To Make A Dog Bed
Your dog deserves the best. We know that and you know that! Our canine companions quickly become our best friends and the love we feel towards them is unmatched. But as they grow older (and bigger), they begin to take up more and more space. So, what do you do when they snuggle into your bed late at night? Or when they take up the whole couch to sleep?
A dog bed is your best bet! Many dog owners avoid buying dog beds, thinking of them as an unnecessary and expensive expenditure. Some owners leave a comfortable blanket on the floor in the hopes that their dog will fall asleep on it. However if you, like us, have tried these methods you know that they can fail – miserably.
A dog bed really doesn't have to be a hefty expense! You can easily make a very comfortable bed for your pooch, no matter how big he/she is, using household items! In this article we'll show you how to make a dog bed for your furry friend.
Use A Bedside Table
This is a pretty simple dog bed to make. All you really need is a simple four legged table and a comfy cushion.
Flip your four legged table upside down. If you're up to it, you can even choose to paint it a color of your choice! Place a nice cushion in the space below the table, the part below the table that is withdrawn, and you have yourself a dog bed!
Use A Recycled Tire
Making a dog bed out of a tire is simple and inexpensive! First of all, you'll need an old tire. You can choose to buy a recycled one from a tire shop or use an old one you have lying around.
No matter where you get it from though, make sure you clean your tire with a brush and soap before using it. Once your tire is clean and dry, you may want to paint it using spray paint. It's better to do this outdoors so you don't get your furniture or floors dirty. Once the tire is dry, bring it inside and stuff it with a pillow. That's it! You now have your own tire dog bed.
Use A Crate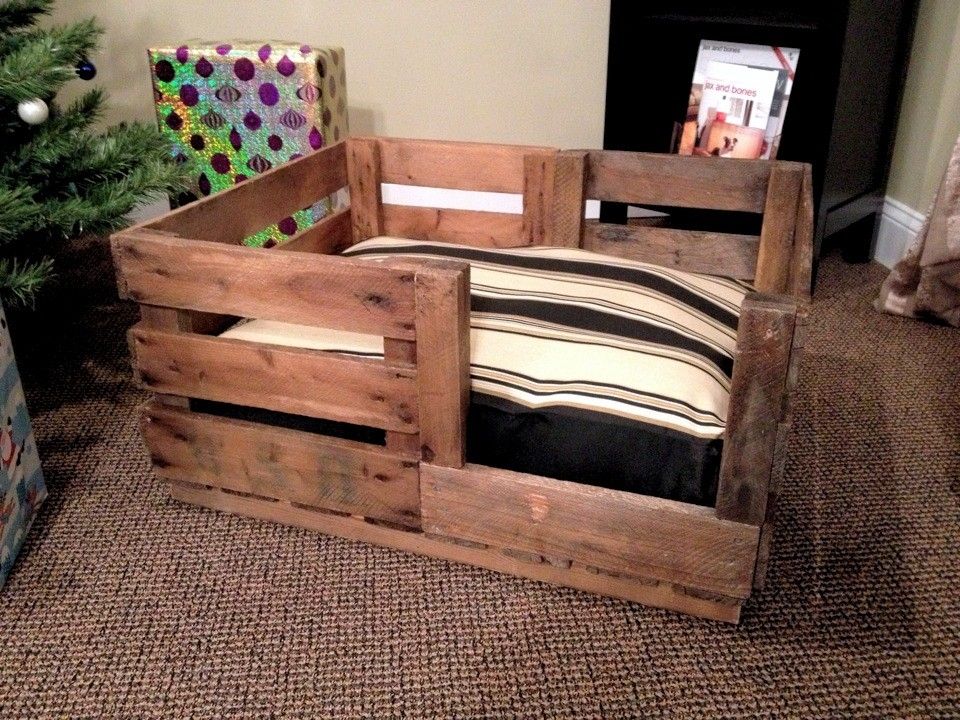 Crates are perhaps what everyone thinks of when they read the term DIY dog bed and rightfully so, they're really easy and cheap to use! Not to mention, they can be moved around pretty easily as well. To make a crate dog bed, you'll need roughly seven to ten pieces of wood, ideally pine. Have some pieces 36" in length, 27" in length,  9" in length, 5" in length, and 3" in length. You can choose to keep the height whatever you want, but we recommend 1" or 2".
Ideally, you should start by staining or painting the wood. Afterwards, prep the wood by sanding it. Once your wood is ready to be use, assemble it into a box shape. Using screws, attach your planks to each other. Lay the largest ones on the floor and make the base of your dog bed first. Then, move onto the sides. Remember to leave one side plank-free so your dog and enter the bed easily. Once the body of your dog bed is complete, just add a cushion large enough to fit and you're done!
Use Fabric
Simply using fabric is another effective method to make your own dog bed. In order to make your dog bed, you'll need roughly 2 yards of fabric and a memory foam twin mattress cover, preferably 1 inch thick.
You can even fold the topper in half if you want a thicker cushion for the bed. Then, use the fabric to make a pillow case for the cushion. We recommend using an outdoor fabric since it's more durable than other kinds of fabrics. To make your pillow case, first cut the fabric to fit your folded mattress cover. Turn the fabric inside out and use a sewing machine to sew the sides of the fabric, leaving one side open.
Turn your dog bed cover back the right way around and stuff the mattress cover inside it. Now, you can choose to sew the last side shut or incorporate a zipper on it. With the zipper, you can replace the cushion inside when you feel the need to and you can take the cushion out and wash just the cover as well. Making a dog bed out of fabric is simple and cost-effective!
Use A Suitcase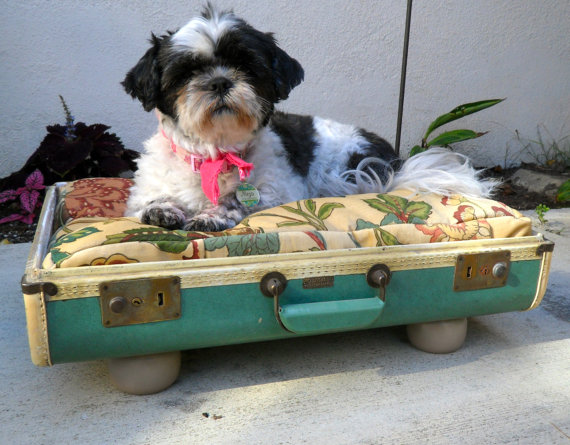 An old suitcase makes a great DIY dog bed at really no extra expense. If your dog likes to roam around, you may want to get an extra-large suitcase so that he/she can roam around in it as well. Since a suitcase is divided into two separate hollow parts, you'll need to do some work to turn it into one hollow bed for your pet. Using a utility knife remove one side of the suitcase so you have a nice bed for your dog. You may want to file the sides down to ensure that your dog doesn't get injured going in and out of the bed.
Once this is done, it's time to decorate your new dog bed! Use old pillows, blankets, and other old padding material lying around your house. If you want to be extra careful, you can lay an old bedsheet over the padding to make sure that it doesn't get worn down too quickly.
Making a dog bed yourself is by no means difficult, or overly expensive. It does, however, require some extra effort on your part. Making sure your best friend has a comfortable bed is no easy task – but is definitely one that is very fruitful. That smile on your little pup's face is worth all the effort.
But if you find yourself with no time to sit and do some crafting at home, or maybe you can just have lazy days like we all do, then you can check out some great dog beds here as well. At the end of the day, what's important is that your dog gets the comfy bed he/she deserves.